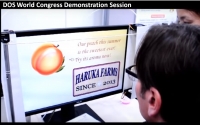 The Scientific Committee invites all academic & industrial teams to present the most innovative appliances, devices, methods and ideas in the digital olfaction field.

DOS 2016 Innovation Award
The DOS World Congress will present the most innovative appliances, devices, methods, ideas… that will be judged by a panel of industrial, engineers and members of the press, who delivered the Innovation Award after having had the opportunity to meet and interact with the new equipment.

Program of DOS 2016 Demonstrations
The demonstrations sessions will be divided in two parts:
• Before the practical demonstration, we invite each team to present orally their technology and the process of demonstration (5-10 minutes by team).
• During Demonstrations Session, each team will have a dedicated space to show, demonstrate, explain and discuss about his project.
Among the demonstrations already selected
Cocktail maze using wearable olfactory display
Yosuke Maruno, Masaaki Iseki and Takamichi Nakamoto, Tokyo Institute of Technology, Japan
AROMASTIC, a personal aroma diffuser, changes the way you enjoy scents
Shuji Fujita, Sony Corporation, Japan
Smelling screen mini: Presenting spatial odor distribution over the touch screen of a tablet computer
Haruka Matsukura, Tokyo University of Agriculture and Engineering, Japan

You would like to present your innovative device, method or product during DOS Demonstrations 2016?
Please just send us your project, with an abstract, before October 30 to digital-olfaction(at)digital-olfaction.com
To access to the demonstrations of DOS 2014, please click here.
To access to the demonstration of DOS 2013, please click here.