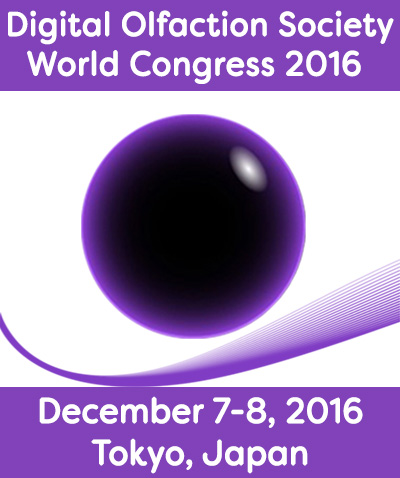 Nowadays, visual and auditory information can be digitally captured, stored and reproduced. We are in touch with that information every day. If another important sense such as olfaction is digitally available, our lifestyle might be changed.
Digital Olfaction Society held the first congress on digital olfaction in 2013 in Berlin, Germany and the second congress in Tokyo, Japan in 2014. In both events, we had demonstrations of olfactory displays in addition to oral presentations. People were excited about those demos since they enjoyed mysterious experience. We should continue our effort to have digital olfaction in our daily life. Thus, 3rd Digital Olfaction Society World Congress will be held in Tokyo in December 7-8, 2016.
The aim of the third Digital Olfaction Society World Congress 2016 is to discuss:
The advances of digital olfaction Research & Development
The practical applications of digital olfaction
The impact of these applications on our life and lifestyle
Digital Olfaction Society World Congress2016 will highlight:
The interdisciplinary sciences related to Olfaction and Digital olfaction.
The way in which we can transfer the concrete breakthroughs of Research & Development towards
The industrial applications concerned by digital olfaction
How to design and extend the applications of digital smell technologies to everyday life?
Among hot topics presented at the Digital Olfaction Society Congress 2016
Recent Advances of Digital Olfaction Research & Development

Odor Sensing and Odor Visualization

Olfactory Display & its Applications

Digital Olfaction Displaying & Demonstrations
Digital Olfaction Society-Network Session
The Network Session is organized during DOS demonstrations session. The objective of the Network Session is to provide a platform which brings together stakeholders involved in olfaction and digital olfaction, and especially in the field the valorization of digital olfaction applications and products:
Food industries
Cosmetics
Phone companies
Car Industries
Others
We look forward to welcoming you in Tokyo for this particular event.
Digital Olfaction Society Committee