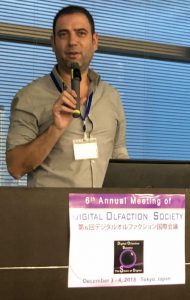 Vision and perspective and the future of DOS
Olfaction is generally considered as a minor sense, although in the food and beverage industry as well as in perfumery is undoubtedly the first one. Digital olfaction could also be considered as the third digital sense in terms of users and performance, after computer vision and digital audio. Unlike these senses, olfaction suffers from the phenomenon of olfactory fatigue (or olfactory adaptation), it's also important to realise that aroma chemistry is complex, and the smell of any scent is never really the consequence of a single chemical compound. All this makes the development of a digital olfactory system not an easy task.
The project on olfactory digitization was initiated by Dr. Marvin Edeas in March 2012 in order to promote this innovative concept and highlight and exploit a world unknown so far with the founding of Digital Olfaction Society (DOS). From that moment on, DOS has been a key factor in building up constructive links between leading researchers and industrialists in order to set up appropriate strategies in order to implement Research & Development through practical applications with a high impact on our lifestyle thanks to the potential of olfactory digitization.
At this moment, with the help of technologies like micro and nanotechnology, internet of things, machine learning, among others, digital olfaction will be without any kind of doubt the next digital sense to be used massively by users in different fields like food and industry, health, environment, among others. The use of odour sensors in telephones, household appliances, cars and personal devices is expected to increase in the coming years to enable the development of applications for digital olfaction. In this scenario, the society of digital olfaction will play a fundamental role in the dissemination of the main advances to have digital olfaction in our daily life. Researchers, academia and industry are invited to join us to achieve the main challenges of digital olfaction in the next years.
Dr. Jesús Lozano Rogado
University of Extremadura, Spain