Digital Olfaction Society Meeting 2024: New Challenges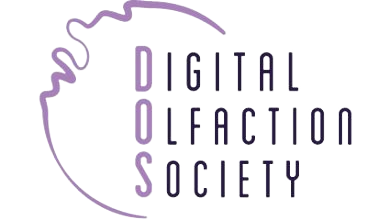 New challenges in the field of digital olfaction will be highlighted during the 8th World Congress of Digital Olfaction Society in December 2024 in Tokyo, Japan. All the details will be available soon.
What was Highlighted During DOS 2022?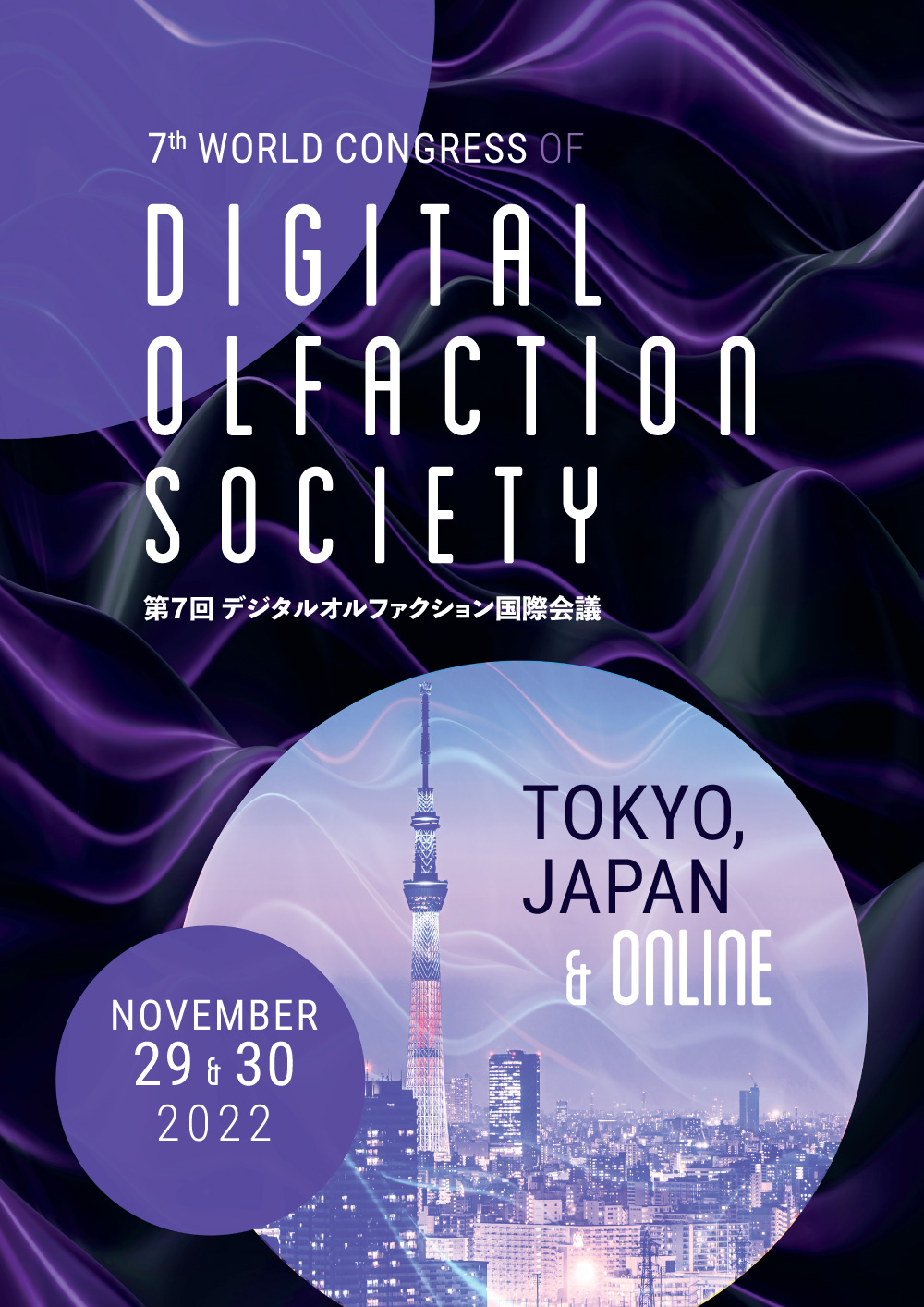 The 7th World Congress of Digital Olfaction Society  was held on November 29-30, 2022, in Tokyo, Japan, in-person & online.
Introducing Miniature Device for Digital Olfaction: Sniffing Smartwatch
Jesus Lozano Rogado, President of DOS, University of Extremadura, Spain
Brand New Olfactive Age: Olfactive Technologies for Olfactory Measurement and Testing
Shuji Fujita, Sony Corporation Olfactory Business Development Office, Japan
Kouawase(香合せ)with Real Time Spectrometry
Katsuya Ujimoto, Ricoh Company, Ltd., Japan
Demonstration of Aroma Oil Recognition by Deepsniffer
Chuanjun Liu, U.S.E. Co., Ltd, Japan
Demo of Sensory Panel for Table Olives using Digital Olfaction Technology
Daniel Martín Vertedor, Scientific and Technological Research Center of Extremadura, Spain
President's Concluding Remarks
Industrial Attendees:
Sony (sponsor)
RICOH (sponsor)
Mars City Design (Sponsor)
Astrobiome (Sponsor)
ALPHA-MOS
Aroma Republic
Aromyx, Inc
Business Intelligence Analytics
Christian Hansen
Ellona
GEMFluidix
International Flavors & Fragrances
LG Japan Lab
Mondelez International AMEA Pte Ltd
Moodify
Nepita
Nexty Electronics Corp.
Olfasense GmbH
Procter and Gamble
Ricoh Company, Ltd.
Sanyo Chemical Industries, Ltd.
Sentech GMI
Sony Corporation
Suntory Global Innovation Center
Rational F&E GmbH
Taisho Pharmaceutical
Takasago
Tunable AS
U.S.E. Co. Ltd.
Via Scent Ltd.

Academic Attendees:
Centro de Investigaciones Científicas y Tecnológicas de Extremadura (CICYTEX)
EIPurpan
Erasmus University
Fondazione Policlinico Universitario Agostino Gemelli
Hasso-Plattner-Institute gGmbH for Digital Engineering at the University of Potsdsam
Hebrew University
Incheon National University
Instituo de Tecnologías y de la Información
Institut Cochin
Kangwon National University
Kyoto University of the Arts
Malmö University, Sweden
Max Planck Institute for Intelligent System
National Research Council of Italy
Politecnico di Milano
Scientific and Technological Research Center of Extremadura
Shahrekord University
Tampere University
Technische Universität Dresden
Tianjin University
Tokyo University of Agriculture and Technology
Ulster University
Universidad de Extremadura
Universidad de Valladolid
Université de Paris
University of British Columbia
University of Extremadura
University of Freiburg
University of Ljubljana
University of Torino
University of Ulsan
University of Veterinary Medicine Hannover
Vancouver Coastal Health
Weizmann Institute of Science
Report of 6th Annual Meeting of Digital Olfaction Society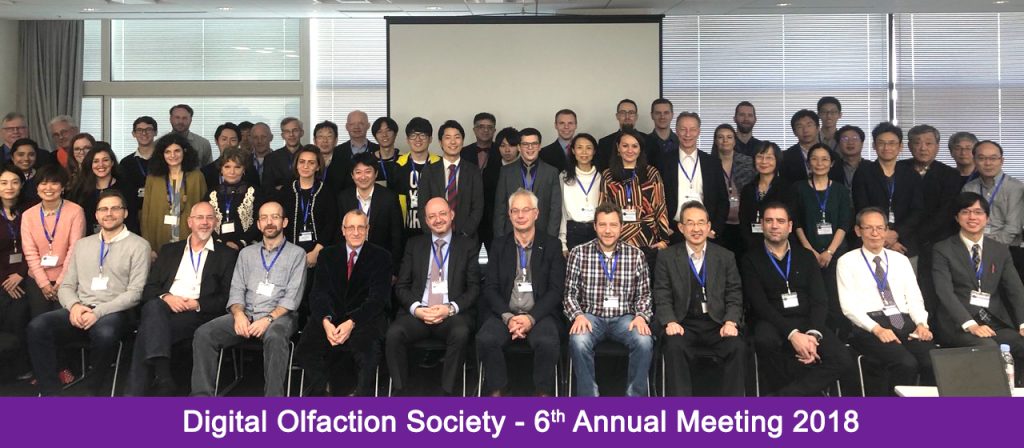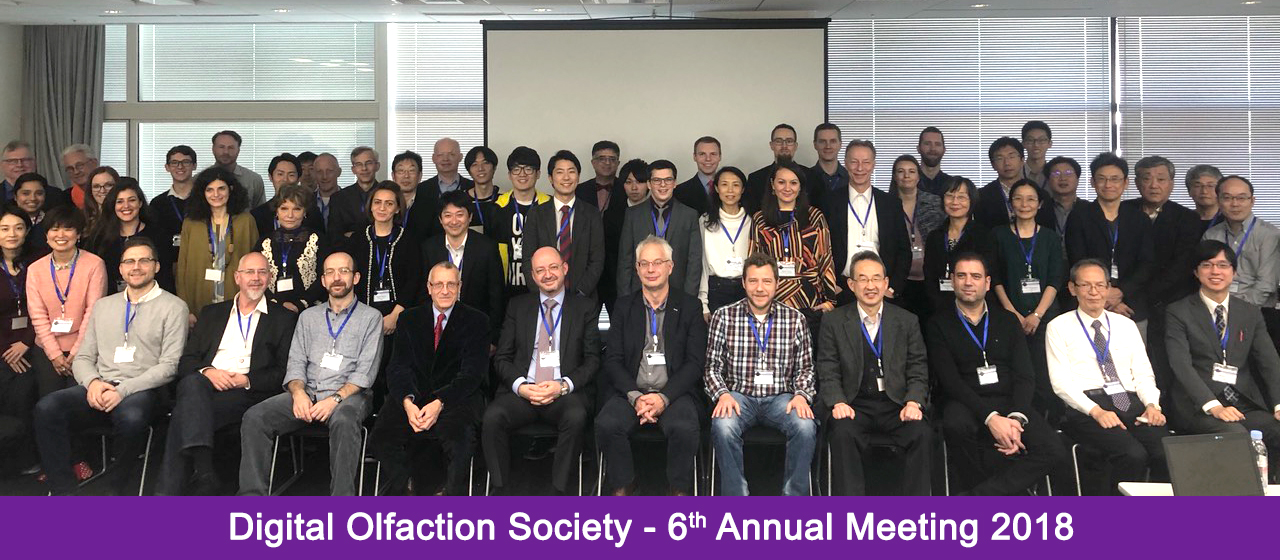 The 6th Annual Meeting of the Digital Olfaction Society was held in Tokyo on December 3-4, 2018. Pictures of DOS 2018 of the congress are available by clicking here.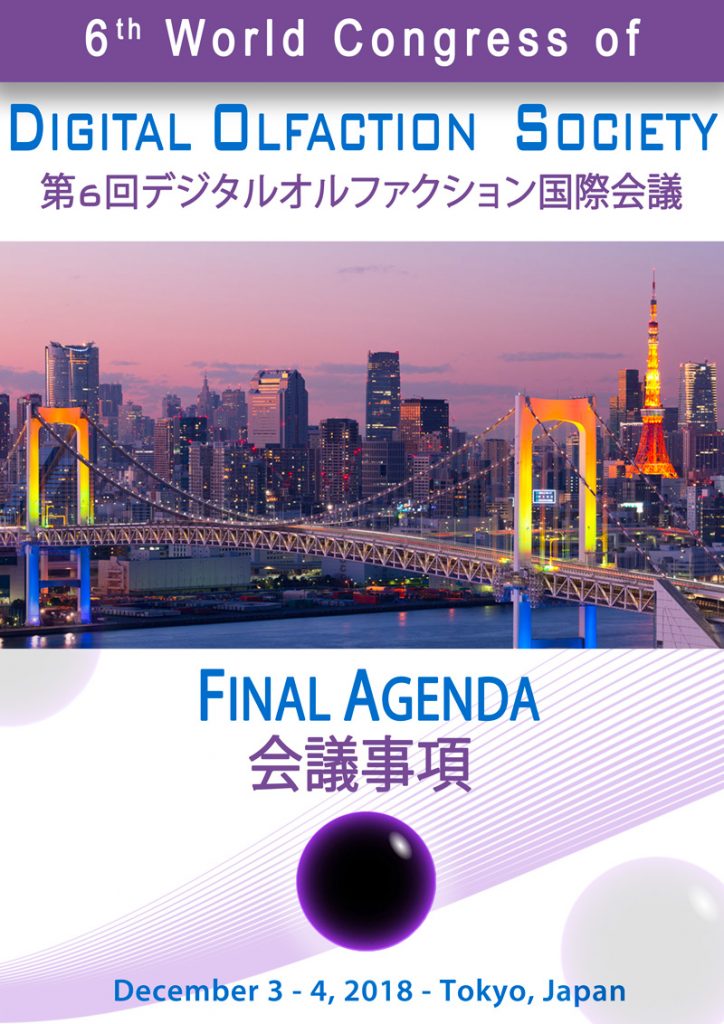 The Digital Olfaction Society published the Final Agenda of DOS 6th Annual Meeting 2018 which was  held at AP Tokyo Yaesu Dori – Convention Center, Tokyo, Japan on December 3-4, 2018.
Digital Olfaction 2018 Demonstrations
Personal scent for a health and productivity management
Cedric Duvert,
Sony corp, Japan
Technology for scent classification and production
Jussi Rantala,
University of Tampere, Finland
Transmitting aromas by using a miniaturized electronic-nose and an olfactory display
Jesús Lozano Rogado, University of Extremadura, Spain