Olfaction & Issues 2010 – Conference Report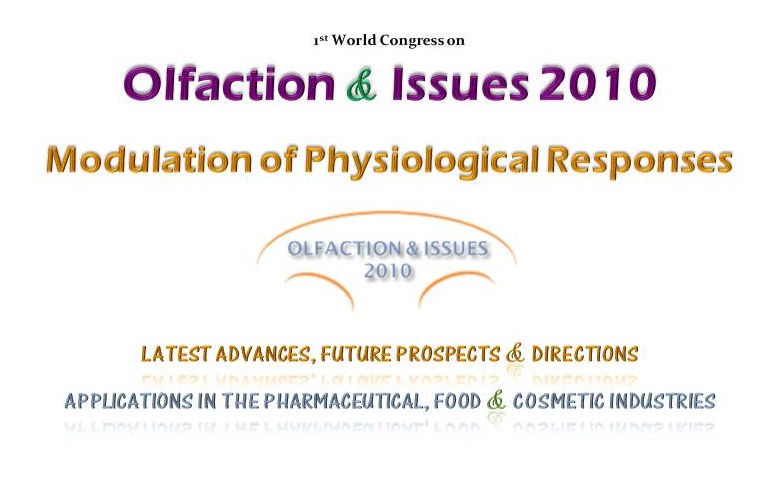 The 1st edition of Olfaction & Issues World Congress, which has held in Paris on November 4-5, was a big success.
Download Agenda | Download Report | Download Abstracts Book
---
Welcome note of 2010 Conference:
Latest years, industrials started to be interested in sensorial effects of their products on the consumer. New markets were created, in the field of touch, hearing, taste and sense of sight, with products more and more original.
Why organizing a conference on olfaction?
Breakthroughs are more and more numerous each year. That's why it's interesting to focus on potential applications for these advances. Olfaction could be one of these applications. Today, this sense begins to interest industrials and scientists.

…Olfaction "the Forgotten Sense" must be more investigated for human health and our well-being…
Many breakthroughs have helped to understand olfactory mechanisms and physiological and psychological responses. The efficacy of human sense of smell, very complex and quite unknown mechanism, has been studied since few years and has enabled to discover amazing effects. The opportunities in the market are now becoming very hopeful.
For the treatment of obesity, olfactory gastric receptors have been identified as satiety modulators. May olfaction have an effect for other applications as stress, ageing or addiction?
The aims of Olfaction 2010: Modulation of physiological responses are to:
– Debate on a complex and relatively unknown subject
– Consider possible applications in cosmetic, pharmaceutical and food industry
– Discuss of latest breakthrough in this area 
The conference will gather researchers and academics, R&D departments, pharmaceutical companies, food supplement companies, cosmetics companies, veterinary medicine companies, marketing departments, investors, start ups and all other stakeholders in the olfaction and pheromones industry in order to answer these questions
The Olfaction 2010 Congress will be composed of various sessions:
• Session 1: Recent Advances on Olfaction
• Session 2: Olfaction: Science & Food Application
• Session 3: Olfaction & Applications in Pharmaceutical Industry
• Session 4: Olfaction & Applications in Cosmetic Industry

Two workshops will be organized during these two days
* Umami trends and Olfaction: Opportunities & Perspectives of the 5th sense for the flavor industries
* Olfactive logo and Marketing communication
A Satellite Symposium will be held about Pheromones: Scientific Credibility & Practical Applications in Humans
We look forward to welcoming you in the beautiful Paris for this particular event.
Dr Marvin Edeas
Chairman of the Scientific Committee
---
Speakers: