Tokyo 2014
The Digital Olfaction Society published the report and the abstracts book of DOS 2014 World Congress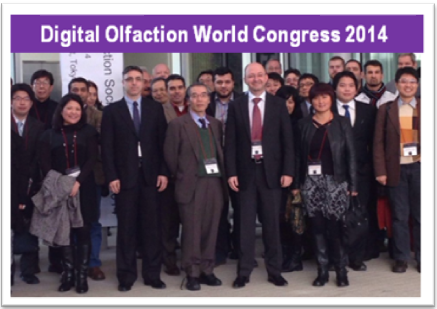 The Second World Congress of Digital Olfaction Society was held at the Tokyo Institute of Technology on December 8-9, 2014, and gathered more than 110 participants coming from academies and industries gathered around short oral and posters presentations of high scientific quality.
Moreover, an exciting demonstration coming from six different teams around Digital Olfaction innovations was organized. Among demonstrations: 
Smelling Screen: Generating Spatial Odor Distribution as if an Odor Source Had Been Placed onto an LCD Monitor Screen
Cross-modal effect on scent and music
Digital Olfaction with Computer Controlled Odor Blender
Aroma Shooter – Instantaneous Scent-Switching Aroma Ejector
Quantitative measurement of detection threshold and discrimination threshold and furthermore the quantitative measurement of masking effect
Scent Projector: a method of delivering scented air locally using vortex rings
You can access the final program of the congress by clicking here.
You can access the videos of the demonstrations by clicking here.
---
If you are interested to receive the abstract book of the congress, please don't hesitate to contact us.
DOS Team
www.digital-olfaction.com