News & Media
E-Nose Application : Discrimination of Sterilization Treatments Applied to Californian-Style Black Olive Varieties
'Californian style' processes are among the most frequently employed to produce oxidized olives. Sensory evaluation requires the development of an instrumental detection method that can be used as an adjunct to traditional tasting panels.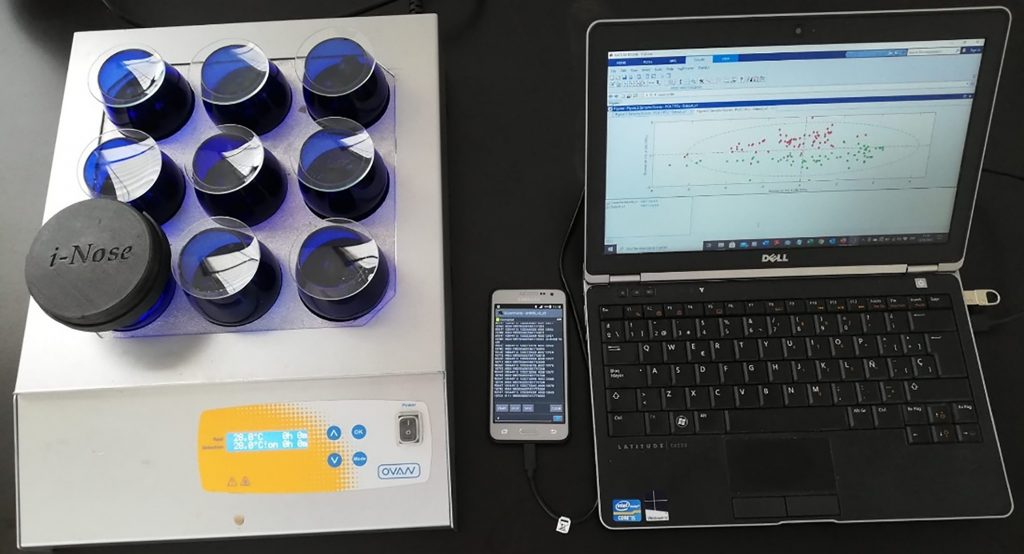 E-nose device and technology needed to measure samples of Californian-style black olive in a standard glass and heating block.
News Releases, Digital Olfaction Society – Tokyo, Japan – August 11, 2022
An electronic nose (E-nose) was used to classify two varieties of olives following exposure to different sterilization.
The results suggested that, when combined with chemometric tools, this device (PCA, PLSDA, and PLS) may be used as a rapid and inexpensive screening method for the discrimination of standard characteristic aromas in table olives. Increasing the duration of thermal sterilization caused greater cooking effect sensations in the olives; however, when an F0 higher than 22 min was applied, olive volatile profile was not significantly modified. 
Thus, E-nose offers a fast, inexpensive and non-destructive method for discriminating between varieties and thermal treatments up to a point at which cooking defects are highly similar (from F0 = 18 onwards). © 2021 Society of Chemical Industry.
© Photo Copyright:  Full review.
---
Dr. Vertedor will be joining the DOS 2022 Congress this November to discuss the latest e-nose technologies designed for the olive oil industry. 
Digital Olfaction 2022 Annual Meeting
November 29-30, 2022 – Tokyo, Japan & Online
www.digital-olfaction.com