News & Media
Smellosophy: What the Nose Tells the Mind
A new revolutionary book
News Releases, Digital Olfaction Society – Tokyo, Japan – March 14, 2022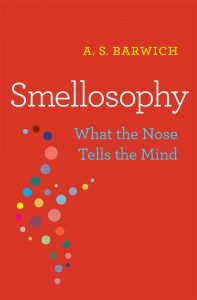 A pioneering exploration of olfaction that upsets settled notions of how the brain translates sensory information.
Decades of cognition research have shown that external stimuli "spark" neural patterns in particular regions of the brain. This has fostered a view of the brain as a space that we can map: here the brain responds to faces, there it perceives a sensation in your left hand. But it turns out that the sense of smell―only recently attracting broader attention in neuroscience―doesn't work this way. A. S. Barwich asks a deceptively simple question: What does the nose tell the brain, and how does the brain understand it?
Barwich interviews experts in neuroscience, psychology, chemistry, and perfumery in an effort to understand the biological mechanics and myriad meanings of odors. She argues that it is time to stop recycling ideas based on the paradigm of vision for the olfactory system. Scents are often fickle and boundless in comparison with visual images, and they do not line up with well-defined neural regions. Although olfaction remains a puzzle, Barwich proposes that what we know suggests the brain acts not only like a map but also as a measuring device, one that senses and processes simple and complex odors.
Accounting for the sense of smell upsets theories of perception philosophers have developed. In their place, Smellosophy articulates a new model for understanding how the brain represents sensory information.
About the author: A. S. Barwich is Assistant Professor in the Department of History and Philosophy of Science and Cognitive Science Program at Indiana University Bloomington. She has been a Presidential Scholar in Society and Neuroscience at Columbia University's Center for Science and Society and has held a Research Fellowship at the Konrad Lorenz Institute for Evolution and Cognition Research in Vienna. Her website is www.smellosophy.com.
Check out some editorial reviews on this excellent book:
"Barwich writes with charm and precision about our preconceptions of how the olfactory system works and how it is different from the other sensory mechanisms that keep us alive and (relatively) safe…An illuminating discussion of the interface between the logical coherence of philosophy and the empirical disciplines of science."―Michael Bywater, The Spectator
"Barwich melds a philosophical perspective with a rich history of olfactory science, tackling big questions with layers of perceptual, psychological, and neurobiological explanations…She offers rich discussions of olfactory perception, the conscious and subconscious impacts of smell on behavior and emotion, and the physical and behavioral details that determine what odors we inhale, furnishing broad insights into the psychology of olfaction."―John P. McGann, Science
Read more about this excellent book.
Digital Olfaction 2022 Annual Meeting
November 29-30, 2022 – Tokyo, Japan & Online
www.digital-olfaction.com