---
Welcome to Digital Olfaction Congress 2022 Annual meeting.
After the success of the four DOS World Congresses (Berlin, 2013 and Tokyo, 2014-2016-2018) and the two congresses on Olfaction & Issues (Paris, 2010 and Milano, 2016), the scientific committee decided to organize its annual meeting: Digital Olfaction Society Annual Meeting which will be held on November 29-30, 2022, as a hybrid meeting: in Tokyo, Japan, & Online. We are very optimistic that Tokyo will be open for tourists at this time.
DOS World Congress provides a forum for scientists, engineers, and practitioners to share their latest findings, innovations, and products in the area of Digital Olfaction. This year, the conference is, in part, dedicated to the COVID-19 and its relation with Olfaction and Digital Olfaction (COVID-19 and its impact on human olfaction, COVID-19 diagnostics with canine and digital olfaction by Breath Analysis & COVID-19 biomarkers, etc.).
Our aim is to accelerate the digital olfaction innovations in many fields. We will link and connect all actors in this particular field to achieve our goals which is the smell of digital.
The aim of the 7th Digital Olfaction Society World Congress 2022 is to discuss:
The advances of digital olfaction Research & Development
The practical applications of digital olfaction
The impact of these applications on our life and lifestyle
Digital Olfaction Society World Congress 2022 will highlight:
The interdisciplinary sciences related to Olfaction and Digital Olfaction.
The way in which we can transfer the concrete breakthroughs of Research & Development towards industrial applications concerned by digital olfaction
How to design and extend the applications of digital smell technologies to everyday life
The impact of Digital Olfaction on COVID-19 diagnosis and treatment.
Topics of interest include but are not limited to: Scientific Advances & Perspectives of the Sense of Smell, Scents, Odors and Aromas, Health and Scents, Chemical Sensors and Digital Olfaction devices (Electronic Noses and Chemical Analysis), Scent Generation and Olfactory Displays, Data Analysis and Signal Processing and Industrial and Medical Applications.
Why attend DOS World Congress 2022? 
People who are interested in digital olfaction are invited to join this congress to gather the information of recent progress, share it with others and spread the information all over the world. Moreover, participants are encouraged to show demonstrations as well as presentations since we can share the experience of digital olfaction together.

The goal of this congress is to establish the international link related to digital olfaction among a variety of fields such as biology, medicine, computer science, electronics, chemistry, mechanical engineering, psychology, art etc. We aim to create devices which not only can capture odors, but also turn them into digital data as well as transmit them everywhere in the world and restitute the original odor.
We look forward to welcoming you in Tokyo for this particular event.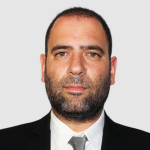 Prof. Jesús Lozano Rogado
President of Digital Olfaction Society,
University of Extremadura, Spain